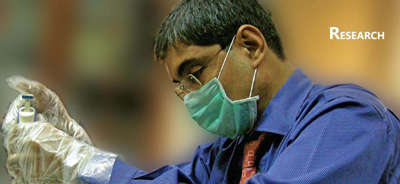 Dr Rajesh Shah, MD, the founder-director of Life Force believes that homeopathy as science would not grow if not supported by constant research work. He is a clinician, homeopath, researcher and scientist.
Life Force is a rare homeopathic clinic, which has in-house research division and a team of researchers working on several projects in the areas of homeopathy. In fact, Life Force is the only clinic with an attached R & D, which is ISO 9001:2009 certified.
At Life Force, the research is conducted in the fields of clinical research, clinical trials, human trials, animal studies and fundamental research.
Life Force is supported by a team of scientists from varied fields, not restricted to homeopathy or medicine, which offer their expert opinions for exploring newer horizons.
There is an independent Ethics Committee associated with Life Force, which reviews various projects. The Ethics Committee has been formed as per ISMR (Indian Council of Medical Research) guidelines.
Newer medicinal molecules have been developed and systematically studied at Life Force. It may be noted that several new research based molecules have been granted Patents in the US, Europe, Australia, India and Africa. Some of the articles based on the research work at Life Force have been published d in peer-reviewed international journals.
Some of our projects include development of new nosodes such as HIV nosode, Hepatitis C nosode and other new medicines; clinical trials on HIV and Hep C infected participants, clinical trial of Chronic painful conditions, and the pathogenetic trials.
Our patients at Life Force get the advantage of the latest research.